The Odashima Collection and Omura Collection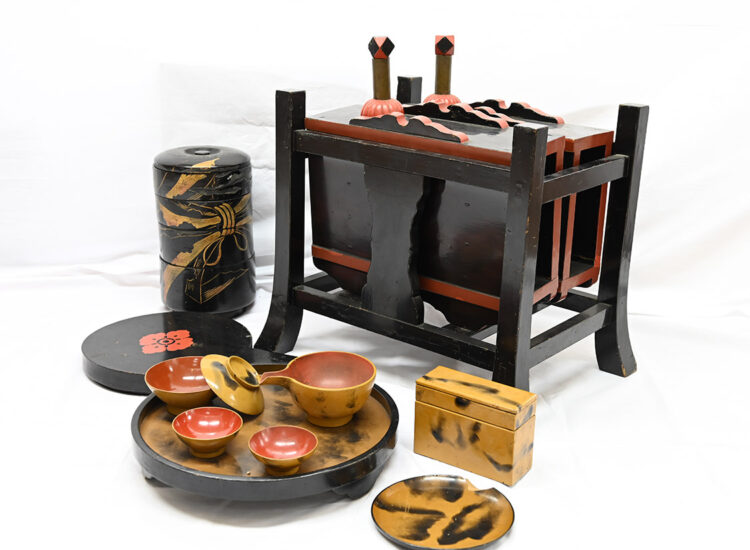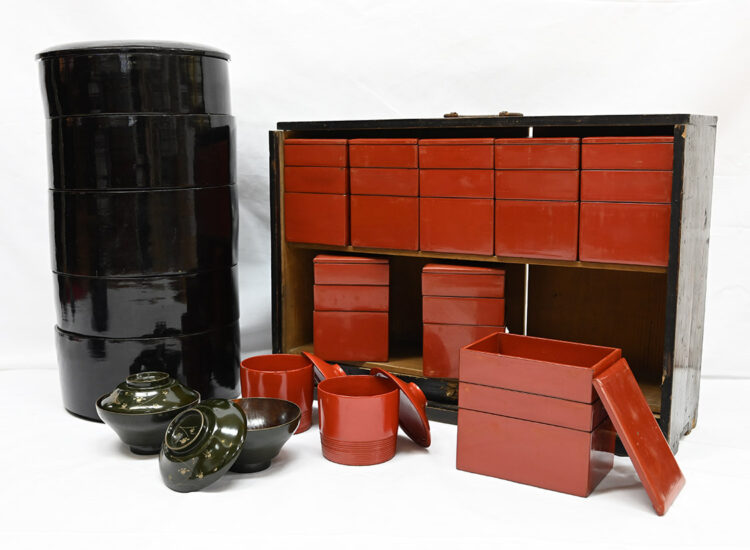 The Odashima collection consists of approximately 4,000 pieces of lacquerware and old documents that were found in 2006 at the home of the late Akio Odashima in the former town of Joboji. The collection was donated to the city of Ninohe as a valuable source of information that depicts the state of the valuable family home from the Edo period (1603-1868) to the Showa period (1926-1989), and the heyday of Joboji Lacquerware.
The Odashima family was a wealthy merchant family known by the trade name of "Sakaya," and they had a wide variety of lacquerware for use by guests and as meals for those who worked during the busy farming season. Godan-jikiro, a five-tiered food basket made in 1857, is lacquerware for storing food. Its large size conveys the lively atmosphere that could be seen at the merchant's house.
In the Appi River basin, where many wood workers lived, many excelled in the technique of creating round shapes out of wood with a lathe, which is why round vessels were more common than square ones. While most Joboji Lacquerware is simple and unadorned, some of the older pieces have chrysanthemums, pine, bamboo, and plum designs.
The Omura collection has about 3,000 pieces of lacquerware. The pieces were collected in and outside the prefecture by the late Tsugunobu Omura of Morioka City over a period of approximately 50 years. In 1995, the former town of Joboji took over the collection from his bereaved family and placed it in the Joboji History and Folklore Museum, as it contained many pieces of lacquerware believed to have been made in the Joboji area.
Most of the items in the Omura collection were made from the late Edo period to the Meiji period (1868-1912) and Taisho period (1912-1926), and have characteristics of folk crafts, making them a valuable source of information about the lives of ordinary people and the production techniques at the time. The collection also includes lacquerware from other areas, such as Aizu and Wajima in Japan, and the Ryukyu Kingdom (modern-day Okinawa), as well as Chinese lacquerware made in the Ming Dynasty. It is an interesting resource for comparing different production areas.

Photo provided by Ninohe City
→Access to the Joboji History and Folklore Museum